Efficient propulsion can't overcome bad hull design.
The most extreme example of this may be the Amphibious Assault Vehicle, commonly referred to as a "jet propelled brick".
I even took a shot at redesigning the brick as a submersible vehicle that would be more efficiently propelled and would offer better performance as an armored vehicle.  I presented a peer reviewed paper on the subject at ASNE Day 2012. See below.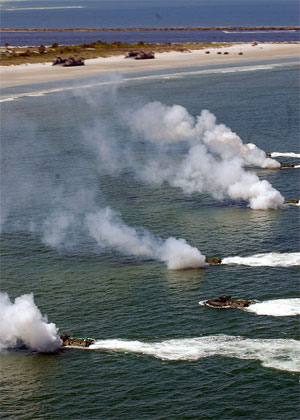 With the demise of the Expeditionary Fighting Vehicle (EFV), the requirement for getting troops from ships over-the-horizon to shore in an environment of changing threats remains.
The ever greater availability of surface-to-surface missiles is effectively moving the horizon well beyond the historical 12-mile planning distance. The evolving Improvised Explosive Devices (IUDs) are driving Amphibious Assault Vehicle (AAV) designs to heavier armor, which makes them lower and slower in the water, and easier to target.
Even an EFV planing over the surface at 30 kts might be detected and targeted with small missiles.
To mitigate these threats, the AAV of the future must be more effectively armored and designed for increased stealth. In my paper I explore the development of such a solution, the Submersible Amphibious Assault Vehicle (SAAV), and its appeal in an environment of economic constraints.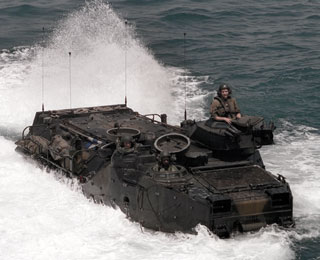 Presentation:
 Adapting AAVs to Changing Threats

Submersible Amphibious Asssault Vehicles (SAAVs).pdf