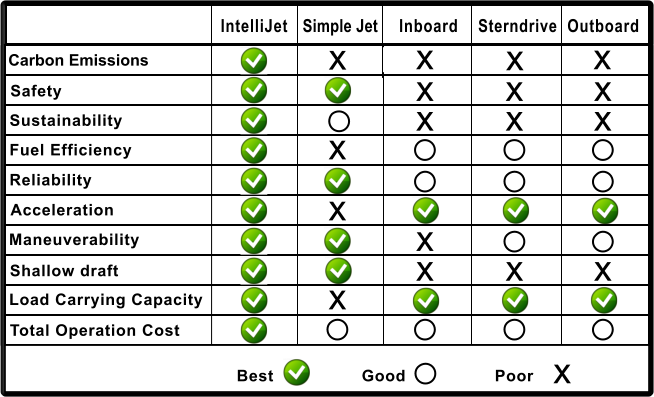 Historically, stern drives evolved as the most practical method of getting more power on an outboard drive leg. To achieve this end at the time, it was worth the disadvantages of additional weight, mechanical complexity, and failure modes.
With the evolution of 4-cycle and e-tech 2-cycle outboard motors, the stern-drive compromises are no longer competitive.  Outboards now enjoy lighter weight from a motor designed and built for a propeller drive with a vertical shaft, fewer gears, etc., which results in a boat with better acceleration, top speed, and fuel efficiency.
The stern drive boat segment is losing ground to the outboard segment, and this is likely to continue.  At the same time, marine jets are becoming increasingly popular in military, commercial and recreational applications for reasons of safety, dependability,  and shallow water operation.
IntelliJet combines fuel efficiency, sustainability, reliability, safety and other key advantages over both jets and propeller drives in many applications.  This is the innovation the boating industry has been looking for to reinvigorate the market.
An accurate computer model of this revolutionary product allows models to be optimally designed and produced rapidly for maximum performance and fuel economy in any application. 
This is an opportunity that could prove extremely valuable to marine motor manufacturers and innovative boat builders.