Testing Fuel Consumption the Hard Way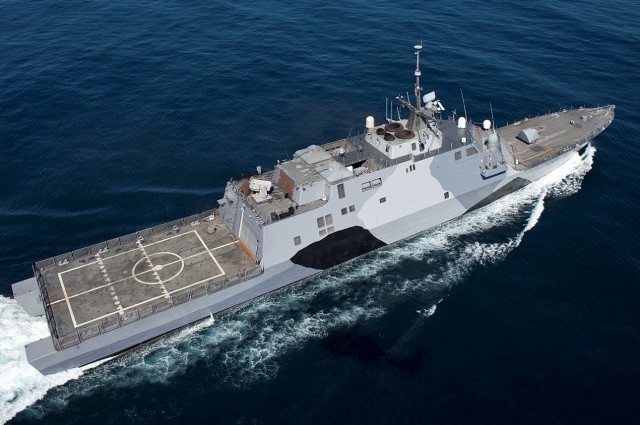 7th Fleet suggests the Littoral Combat Ships, particularly LCS-1, would be more suitable for service in a smaller ocean, where it is not so far between fueling points, according to the US Government Accountability Office report GAO-14-749, Jul 30, 2014.
Fleet users expressed uncertainty about LCS's
potential capabilities and attributes, or how they
would best utilize an LCS in their theater. Several
7th Fleet officials told us that they thought the LCS
in general might be better suited to operations in
the 5th Fleet theater (headquartered in Bahrain)
than to 7th Fleet due in part to the smaller area of
responsibility in 5th Fleet that would make range
less of a consideration.
In its first service with the 7th Feet, the LCS proves to have
excessive fuel consumption and
inadequate range.
Here is the most modern ship in the US Navy using fixed-jet technology, which cannot benefit from modern electronic controls to reduce energy consumption. Such controls have long been common on household appliances like washers, dryers, refrigerators, and toasters.
An IntelliJet-based system would make this type of ship much more practical by reducing its mid-range fuel consumption.  And the whole IntelliJet ship could be modeled and tested in computer simulation to accurately predict its performance in any scenario that it might find in the fleet.  Then the same files could be used to quickly generate pilot production parts for demonstration.